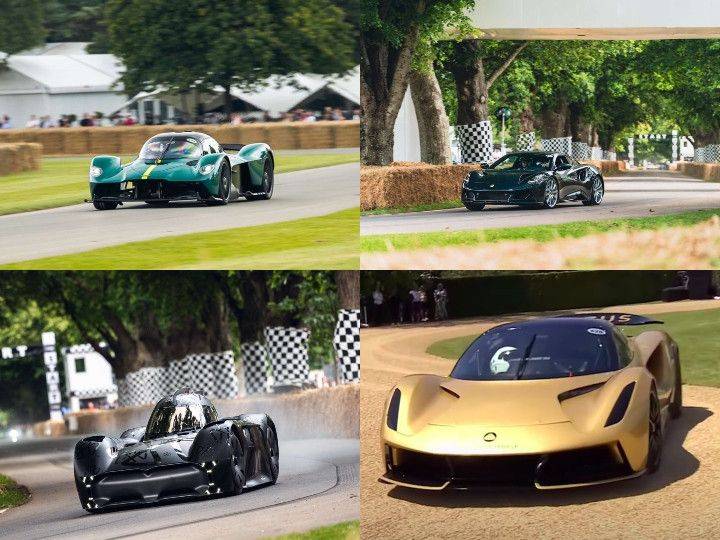 After a year-long hiatus due to the COVID-19 pandemic, the 2021 edition of the Goodwood Festival of Speed in Sussex, UK, returned with a bang. The event saw several cars, new and old, on display as well as unveilings of models. Here's our pick of the coolest cars that were showcased to the public:
Lotus Emira

Kicking things off is the recently unveiled Lotus Emira, which certainly grabbed eyeballs with its beautifully sculpted athletic design. Aside from getting Toyota and Mercedes-AMG performance, the mid-engined sports car also comes with modern features and an advanced passenger safety kit. It's also the final pure internal combustion engine model from the British carmaker. For more details, head here.
Lamborghini Essenza SCV12 

The most powerful Lamborghini ever, the Essenza SCV12 hypercar, couldn't have had a better Goodwood debut. The carmaker showed off its screaming 830PS+ 6.5-litre naturally aspirated V12 motor! Although it utilised a camouflage design, it still stood out with its bonkers aerodynamic appendages all over. To know more about this track-focused hypercar, head here. 
2022 BMW 2 Series Coupe

Another recently unveiled model that made its Goodwood debut was the BMW's next-generation 2 Series Coupe. The sedan looks much better, gets more tech, and is now more fun to drive thanks to some chassis wizardry and, of course, a range of standard four-cylinder petrol and diesel engines as well as a straight-six petrol motor borrowed from the M340i. For more on what it's capable of, head here.
Lamborghini Ultimae

Visitors at Goodwood were also treated to Lamborghini's final iteration of the Aventador. It's the most powerful Aventador with a 780PS 6.5-litre naturally aspirated V12 motor and gets performance wizardry, such as a four-wheel steering and an active rear wing. Performance aside, it features a poster-worthy design and some modern creature comforts. For more on the Aventador Ultimae, head here. 
Rimac Nevera

There was also some love for electric vehicles at Goodwood. Rimac showcased its zero-emission speed demon, the Nevera hypercar, which gets four electric motors driving a stratospheric output of 1914PS and 2360Nm! Rimac has also made an impressive claim of it being the world's fastest accelerating hypercar with a 0-100kmph sprint in just 1.97 seconds. Head here for more.
Bugatti Chiron Pur Sport/ Super Sport

As expected, Bugatti was at Goodwood alongside Rimac since the two hypercar manufacturers recently joined hands. Bugatti showcased the Chiron Pur Sport and the recently unveiled Chiron Super Sport at Goodwood. While the former focuses on optimal cornering prowess, the latter veers towards outright top speed. 
Aston Martin Valkyrie

Another hypercar that debuted at Goodwood was none other than the Aston Martin Valkyrie. While it wasn't the recently revealed AMR Pro trim, the standard hypercar isn't any less radical with its striking British racing green body shade. Its Cosworth-made naturally aspirated 6.5-litre V12 engine, Rimac-designed KERS hybrid battery system, and Integral Powertrain electric motor make a combined 1176PS of grunt with a screaming 11,000rpm redline. The 0-97kmph sprint is achieved in just 2.5 seconds. To know more, head here.
Lotus Evija

Joining the Lotus Emira was the bonkers Evija electric hypercar that showcased Lotus' electric future. Lotus certainly claims mind-boggling figures, with the four electric motors making a combined 2,000PS and 1,700Nm, a 0-100kmph sprint time of less than 3 seconds, and top speeds exceeding 320kmph. As powerful as it is, the Evija also boasts a bonkers aero package which you can read more about right here 
McMurty Spierling

The current Batmobile is too big and not to mention, a gas guzzler Well, McMurty seems to have found a smaller and cleaner solution with the Spierling electric sports car. Juiced up by a 60kWh battery pack, It has a full-carbon body, can hit 300kmph from standstill in just 9 seconds, and offer a WLTP-claimed range of more than 560km. 
McLaren Artura

Last but not least, McLaren showcased its electrified future with the Artura hybrid supercar.
It combines a 3.0-litre twin-turbo V6 petrol engine and a plug-in hybrid electric motor to produce 680PS of grunt and 720Nm of twist. It can go from 0-100kmph in just three seconds with the top speed electronically limited to 330kmph. To know more about it, head here. 
Which of the cars showcased at the Goodwood Festival Of Speed caught your attention? Let us know in the comments below.