Even amongst the glamour of Formula One, there are few more colourful personalities in the sport's history than James Hunt.
He's arguably best remembered for his playboy lifestyle but he was also an incredibly talented driver and was one of the sport's best in the 1970s. The 2013 film, Rush, made him a household name again, highlighting his rivalry with legendary Austrian racer Niki Lauda. 
Here's all your burning questions about James Hunt answered.
Read more about motorsport icons
How did James Hunt die?
Hunt died of a massive heart attack in his sleep on June 15, 1993 at his home in Wimbledon, London.
Hunt's death shocked the motor racing community as he had become a popular commentator on the BBC's F1 coverage, alongside Murray Walker.
How old was James Hunt?
He was only 45 at the time of his death.
How tall was James Hunt?
His height was 1.85m.
Where was James Hunt born?
In real life Lauda and Hunt were good friends.
Hunt was born in Surrey, England on August 29, 1947. He was part of a large family with two sisters and three brothers.
His brother Peter Hunt also became a racing car driver but spent the second half of his career trying to get the Lotus name back into F1.
Hunt attended the prestigious Wellington College for school before embarking on his racing career.
What was James Hunt's net worth?
Hunt was reportedly in financial trouble at the time of his death, largely due to some bad investments. He was caught up in Lloyds of London's financial losses in the late 1980s and reportedly lost £180,000. And despite his high-profile role on the BBC, it's believed he was only paid £200 per race.
By the end of his life he was most often seen driving an old van or riding his bike around London.
Amid his financial troubles Hunt tested a Williams F1 car in 1989 and was considering a comeback to racing, according to those close to him.
How many times was James Hunt married?
Hunt was well-known for having plenty of female company and had two marriages and a third engagement. 
His first wife was Suzy Miller, a British model and actress, who Hunt met in 1974 and proposed to only weeks later. They were married by the end of 1974 but Miller filed for divorce in 1976 to marry American actor Richard Burton.
Hunt met his second wife, Sarah Lomax, in 1982 and they were married by the end of 1983. The couple had two children but divorced in 1989, amid accusations of adultery from Hunt.
By the end of his life Hunt was in a relationship with Helen Dyson, a waitress 18 years his junior. The pair dated for several years and Dyson has said he proposed to her over the phone on the day he died.
Does James Hunt have any children?
Hunt and his second wife, Sarah Lomax, had two sons Tom Hunt and Freddie Hunt. 
Freddie followed his father's path and became a racing driver. He has competed in a number of categories including both open-wheelers and sports cars.
What are the best books about James Hunt?
There are several books about Hunt's life and career, in particular his rivalry with Niki Lauda. Long-time F1 journalist Gerald Donaldson wrote James Hunt: The Biography while fellow F1 scribe Tim Rubython wrote Shunt: The Story of James Hunt.
Is the movie 'Rush' based on a true story?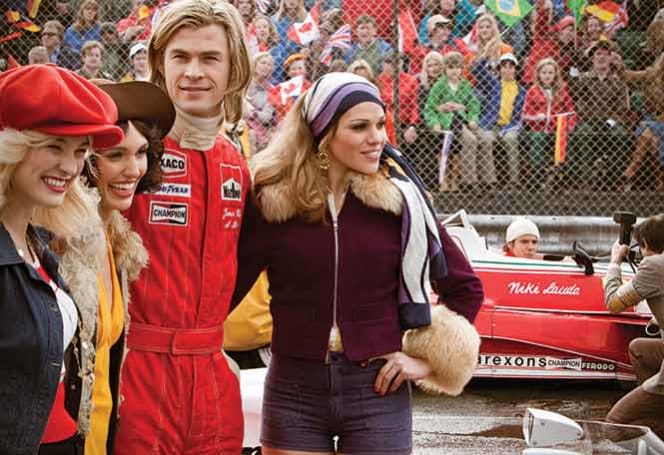 Chris Hemsworth portrayed James Hunt in the 2013 movie Rush.
Yes, it's based on the real-life relationship between Hunt and Lauda during their early days in motorsport right up until they battled for the 1976 F1 world title. However, it's worth noting that this is a Hollywood movie, not a documentary so several liberties have been taken with the truth in order to tell an exciting story.
The movie was critically praised, Australia's own Chris Hemsworth played Hunt and German actor Daniel Bruhl portrayed Lauda.
What are the most famous James Hunt quotes?
Hunt was well-known for his straight-talking, both as a driver and commentator. 
Some of his most famous lines include: "To hell with safety, all I want to do is race."
But he wasn't fearless, saying: "My first priority is to finish above rather than beneath the ground."
He was often blunt with his commentary and regularly slammed poor performances. Perhaps his most memorable put-down was directed at French driver Jean-Pierre Jarier, who he said had "a mental age of 10" and should be given a short suspension for poor driving before adding: "For being himself, he should receive a permanent suspension"
Was James Hunt a fashion trend setter?
His long, blonde hair did make him a trend setter of the 1970s. As did his patch he would sometimes wear on his overalls that read: 'Sex, breakfast of champions'.
However, his casual attitude to dress wasn't appreciated by all. He once accepted a prize at a glamorous awards show dressed in a t-shirt and jeans. He also would often show up to commentate with no shoes.
Did James Hunt smoke?
Yes, Hunt smoked for much of his life – and not just tobacco – before reportedly quitting and getting healthy in the years before his death.
Did James Hunt have a tattoo?
No, he didn't have any visual tattoos.
Which F1 team did James Hunt drive for?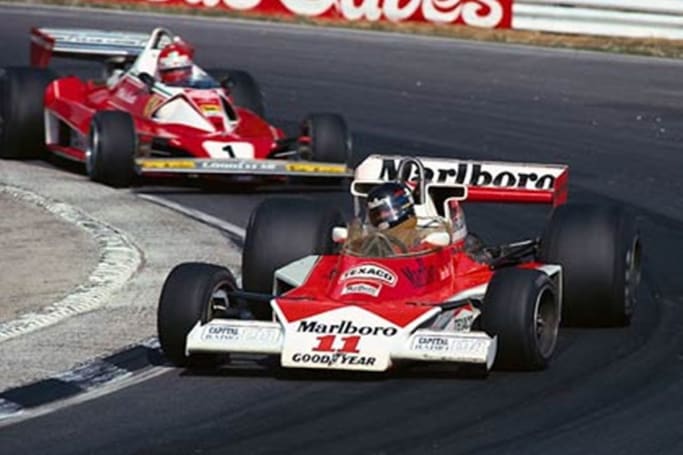 Hunt won the '76 championship with McLaren. (image credit: Formula 1)
Hunt drove for three teams during his short but spectacular F1 career – Hesketh, McLaren and Wolf.
He joined the privateer Hesketh team in 1973 and continued with them until the '76 season. Despite Hesketh's reputation as a 'party team' Hunt demonstrated his talent, winning the '75 Dutch Grand Prix.
When Hesketh quit F1, Hunt was snapped up by McLaren in '76. It was during this season that he had his now-famous duel with Lauda before emerging as champion. He stayed with McLaren in '77 (winning three races) and '78 but never enjoyed the same success, finishing a lowly 13th in the '78 championship.
He moved to the smaller Walter Wolf Racing for '79 but the car was uncompetitive and he retired halfway through the season.
How many Formula One championships did James Hunt win?
One, in 1976 with McLaren
As portrayed in Rush, the '76 championship battle was one for the ages. Hunt and Lauda fought all-season long but Lauda was almost killed in an accident at the Nurburgring and missed two races, giving the advantage to Hunt.
Hunt won the championship at the final race of the season, run in torrential rain at Japan's Fuji Speedway. In total he won six races that season, making it the best of his career.