Many fans expect to see some exciting things for the British Grand Prix done by the teams, as a few of them hail from England. However, fans of McLaren were certainly surprised as they saw the popular basketball team, Phoenix Sun's emblem on the car's halo.
ADVERTISEMENT
Article continues below this ad
The Woking-based outfit has come out to support the team, as they prepare for the finals of the NBA. Both of them adopt the papaya orange as they battle it on the track and basketball court respectively.
McLaren shows their love for Phoenix Sun as they zip around Silverstone
ADVERTISEMENT
Article continues below this ad
As the two Papaya cars of Daniel Ricciardo and Lando Norris zipped around in Friday's session and later in the quail session. Spectators at Silverstone were intrigued to see a basketball team's emblem on the halo of MCL35M.
The Woking-based squad took to Twitter to their loyalty for the team, they wrote, "Game 5 of the #NBAFinals tomorrow HUGE! We're backing the @Suns in their papaya jerseys. Let's do this, team! #RallyTheValley."
Watch Story: What Are Sprint Races & Where Will They Be Held?
How did Ricciardo and Norris perform on Friday?
The British GP had a new format this weekend, as there will only be one practice session followed by a quail session that will set the grid for the sprint race on Saturday. Both Daniel and Lando knew they had to step their game up if they wanted results that could help them in the team's standings.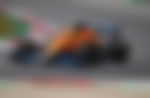 Norris certainly brought his A-game, as he was the second-fastest in FP1. Meanwhile, his Australian teammate found himself being the ninth fastest on the timesheet.
ADVERTISEMENT
Article continues below this ad
However, in the quail session later in the day, both the McLaren driver found themselves in Q3, with Ricciardo taking P7, while his 21-year-old teammate was just ahead of him P6.
The final practice session is just a few minutes away. Do you think Daniel and Lando will improve on their pace and make an impact in the sprint race today evening? Let us know your predictions for the McLaren duo down in the comments section.
ADVERTISEMENT
Article continues below this ad
DIVE DEEPER